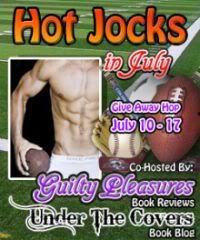 I know it's a million degrees out there, but let's hear it for WINTER SPORTS! I don't know how this happened – maybe because I live in Alaska – but all my athlete heroes play winter sports. I'll bet I'm the only one on this blog hop with a book featuring a biathlon champion (Lars in GO WILD.) Biathletes ski, then shoot, then ski, then shoot – they have to be in incredible shape and have amazing focus. Gavin in GO DEEP is an amateur ice hockey coach. Hockey players are freewheeling, wild, rowdy, and up for anything. So a man who can make them perform at their best – HOT! So here's a little montage tribute to sports involving snow and ice. May it either cool you down or heat you up – or both.
Are those some cute butts or what? Okay, my giveaway: I'm offering copies of both GO WILD and GO DEEP, and international entries are welcome. Click on the blog hop image at the top of the post to return to the main blog hop page. For a complete list of authors participating in the hop,
click here
.
Now back to your regularly scheduled summer!
Juniper Bell